Picture Gallery
The following series is the collection of artists who have displayed since opening the Center Cafe in June 2011. Together the artists have made a changing gallery in the neighborhood.



Now on display

- July and into August




summer inspired painting




"Barbara Edlund Healy's paintings capture the quiet (radiant) beauty of the south coast. Her paintings try to be more then a snapshot, giving the feel of a summer sail or memory of an evening walk" - from her website

| | |
| --- | --- |
| We are very happy to ending our first year displaying the work of one of our neighbors. During the months of May and June, South Ender and award-winning photographer Bob Hughes is displaying a collection of "Illuminated Scenes" of New Bedford. www.bobhughesphoto.com Drop by and experience some memories. | |
| | |
| --- | --- |
| Brain Molina, a 19 year old New Bedford resident, is now showing work he completed over the past couple years in the Cafe. Brian describes painting as a priority he never gives up on. He experiences a world of fantasy in animal forms. | |



These images from Blue Green Water, also new to

the Cafe, activate your third-eye to access new
Now showing in the Cafe


"New Directions - Ink Collection" by black and white photo artist Thomas A. Marino of New Bedford. See thomasamarino.blogspot.com to learn more about this creatively quirky fellow. Thomas gets credit for giving our shoppe Off Centre its name. Opening Reception Saturday 2/4 5-7pm, and showing through February 2012.


| | |
| --- | --- |
| | Come by the Center Cafe to see the artist's latest work. |
The Center Cafe has a new exhibition by fellow South Ender Barbara Leger. Barbara is a Maritime Painter who is represented by Nantucket, Martha's Vineyard and Newport Galleries. Come in and enjoy her work. Showing Nov - Dec 2011

See paintings by South Ender Zachery Muenier now being displayed in the Center Cafe.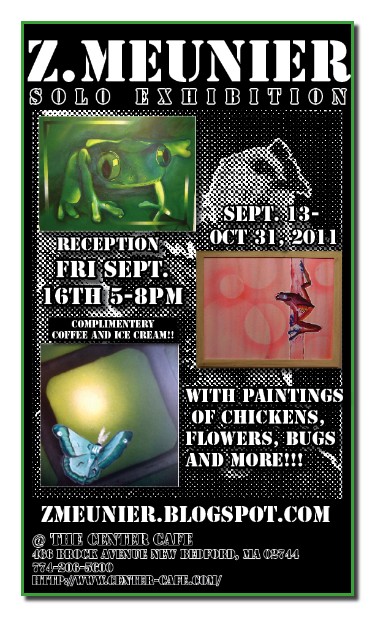 | | |
| --- | --- |
| New work from Sandra Nunes and Roland Botelho is being displayed in the cafe. Sandra is a photographer of nature and Roland is a painter of landscapes, and both are from New Bedford. | |



From June & July

New Bedford visual artist Nick Mello has his work hanging in the cafe. Nick has explored a number of themes from comic book art, athletes, and musical instruments. These captivating pieces are available for purchase. Nick is completing his studies at University Massachusetts Dartmouth.